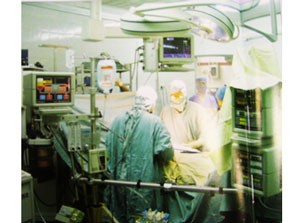 Cardiologists conduct a cardiac operation in Thong Nhat Hospital. (Photo: Ngoc Truoc)
Two heart operations conducted at the Viet Nam Heart Institute in Ha Noi will be televised live to Singapore so that Southeast Asia and world leading doctors and surgeons can watch them in progress, discuss and to suggest optimal solutions for treatment.
This is an activity within the seminar about intervention heart operation in Southeast Asia held in Singapore. Viet Nam, China and Thailand are participants in the seminar and they will televise operations live to the seminar.
Of the two Vietnamese heart patients, a woman older than 40, has problem with cardiac valves (one of the valves has been calcified), and the other, over 60-year-old man, suffers from coronary arteries.