The Children Hospital No.2 in Ho Chi Minh City yesterday announced a successful liver transplantation for a 10 year old kid.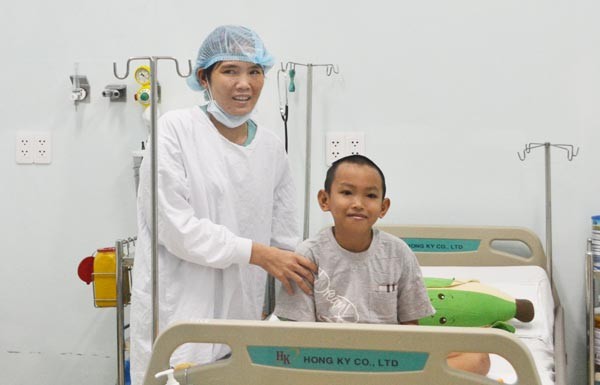 The kid and his mother after the operation (Photo: SGGP)
This is the eleventh liver transplantation carried out by hospital doctors.
The kid patient from Mekong delta province of Bac Lieu had been treated by Kasai's hepatic portoenterostomy operation before the transplantation. But later his illness developed into cirrhosis.
The donor is his mother. The operation lasted 12 hours because surgeons faced difficulties including much bleeding in the donor. His ectopic liver tissue is occasionally found either attached to the diaphragm and gallbladder. The kid suffered pleural effusions yet he was taken care of by doctors so his condition is stable later.
The donor and the recipient recovered. They will be discharged next week.
Operation consultant Professor Tran Dong A said that liver transplantation for kid under ten years old and alive donor is the most difficult technique because blood vessels are very small.