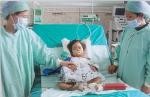 Vo Ngoc Xuan Quy (C) at Pediatrics Hospital 2 in Ho Chi Minh City
Belgian doctors and their Ho Chi Minh City colleagues have made four liver-transplanting operations on Vo Ngoc Xuan Quy at Pediatrics Hospital 2 in town.
The two-year-old child can now drink a lot of milk, Dr. Tran Dong A, deputy director of the hospital, said on December 25. He added the transplanted piece of liver is starting to function normally and it would soon be the time for doctors to deal with the anti-rejection process.
The girl's mother donated a piece of her liver to her daughter.