Dr. Tran Dong A, deputy director of Pediatrics Hospital 2, said the youngest liver-transplanted patient, Mai Hoang Thanh Giang, 12-month child, recovered after one month.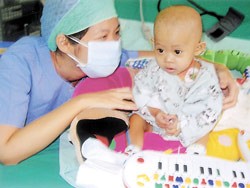 A doctor plays with the child patient
The child can now play with other people and is fed normally. The doctors have removed stitches; the transplanted liver gradually adapted to her body.
Reportedly, prior to the operation her condition was getting worse. She had lung and urinary infection and bled heavily from gullet to stomach and anus. Two weeks after the surgery, she continued to suffer infection. Doctors soon identified the causes and hadproper treatment immediately.
At present, the patient is taking anti-rejection and infection drugs.

Related lnks:
- Liver-Transplanted Child Recovers after 4 Operations
-12-Month Child Transplanted Liver