Vietnam's medical-equipment manufacturing industry is struggling due to a lack of qualified technicians, poor cooperation among departments, and a heavy reliance on foreign-made goods, experts say.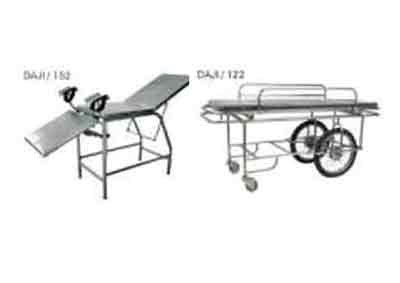 Vietnam currently produces only basic medical equipment like beds and pumps
Cao Van Diem, deputy head of the Department of Medical Equipment and Construction, said 30 years ago, the country had just one medical manufacturing company, Thai Nguyen Medical Equipment.
With nearly 1,000 hospitals and healthcare centers and a growing demand for modern medical equipment, the country now has 50 medical equipment manufacturers and trading firms.
However, the 50 firms only make around 600 types of basic, low-quality items including hand-held tools, beds, pumps, IV tubes, and autoclaves used for sterilizing equipment.
In recent years, some companies have begun manufacturing more complex devices like laser therapy apparatuses, high-frequency electric operation knives, and medical waste incinerators. However, only a few firms have taken such initiatives while the quality of the equipment is low.
A shortage of qualified engineers and technicians is partly to blame, experts say. The country has just 6 percent of the needed engineers and 35 percent of technicians necessary for Vietnam to efficiently produce its own medical equipment.
In addition, the domestic medical equipment industry has done a poor job of communicating with other sectors, slowing its progression.
A preference for foreign-made goods also works against the local manufacturing trade.
According to the Department of Medical Equipment and Construction, Vietnam imports 80 percent of its medical equipment including basic items like needles and thread.
The local healthcare industry spends hundreds of billions of Vietnam dong annually to import medical equipment, with Hanoi and Ho Chi Minh City investing heavily in new foreign technology.
A city hospital director said his clinic was equipped with several state-of-the-art machines including X-ray computed tomography, Magnetic Resonance Imaging (MRI), and gamma knife radiation, but said it was unfortunate that none of it was domestically made.
In the past, Vietnam also relied heavily on foreign-made medicines, but today, nearly 50 percent of the country's pharmaceuticals are locally made with a push to eventually satisfy all domestic demand.