The Vietnamese Ministry of Health has recently approved a proposal to obligate all students, low income state officers and the poor across the nation to buy medical insurance which will partly be funded by the government. Currently, they have the option whether to enter the scheme or not.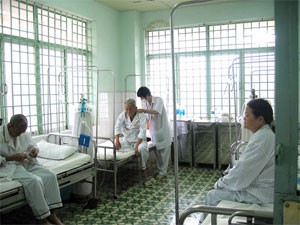 Heatlh insurance policyholders are treated in the District 10 medical center, HCMC.
According to the proposal from the Viet Nam Social Insurance, a state organization supervising insurance activities nationwide, pupils, students, underprivileged people, public servants and workers subject to the voluntary insurance category will be switched to the compulsory insurance one next year.
To help 50 percent of the 14 million disadvantaged households throughout the country access such compulsory schemes, the health ministry has sought government permission to finance 70 percent of the total insurance premiums in this category. Currently, one person has to pay VND200,000 to be insured medically for one year.
Up to now, provinces and cities in the country have signed contracts with over 1,800 public and private hospitals and medical centers nationwide, through which medical care is being provided to millions of policyholders, 15,175 million of whom are underprivileged people.