Despite the Government efforts to increase unscheduled checks on dairy product production, false protein claims are rampant among milk products.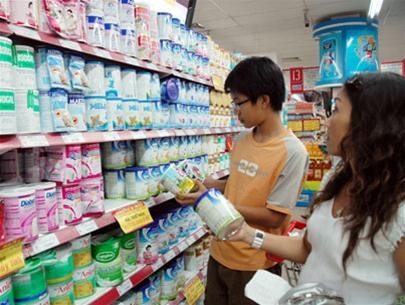 Due to false protein claims on some milk products, customers should be cautious when shopping
Inspectors from HCM City's Department of Health were recently shocked when calling on Truyen Tam Processing Factory.
In a 30 meter squared area, one machine is housed that produces tens of tons of milk a month, even to kindergartens in the Mekong delta province of Tien Giang.
Although the label states its Vitamin and protein content, the producer failed to say what the levels were, neither could they present certificates of food hygiene and safety.
Previously, agencies in Tien Giang had discovered the company's dairy product in paper packages with protein levels just 30 percent of that claimed on its labels.
Hundreds of milk products are displayed at Binh Tay Market, District 6, including milk in nylon bags, in paper containers or in tins. Most of them show indications that they are from Australia, Netherlands, New Zealand and China but are packaged in Ho Chi Minh City.
At Ty Loan shop, the owner said the nutrition content of milk is given by dairy producers and some milk has no protein content information.
For instance, a 500 gram full-cream milk powder for one year olds, the elderly and pregnant women, packaged by Phuoc Tai Co., has no percentage of protein content.
The head of the Department of Food Hygiene and Safety, Dr. Nguyen Cong Khan, said inspectors will tighten control of dairy products and conduct tests on food hygiene and safety, as well as protein content.
Violators will receive harsh punishments, he added. 


In his July 17 dispatch to the three ministries of Industry and Trade, Finance and Health, the Minister in charge of the Government Office, Nguyen Xuan Phuc, ordered that they report milk prices to the Government before July 30, as the media had reported the prices have increased continuously since 2007, infringing on customers' rights.
Related article:
Dairy firms caught cheating – again