Makeshift hospitals in schools have worked effectively in preventing swine flu, said a health official on July 31.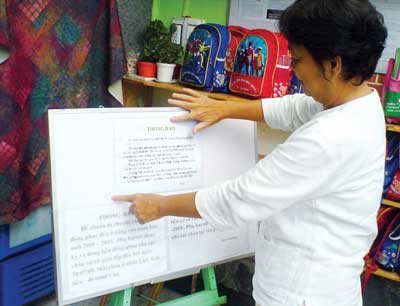 Pre-schools in District 8 announce they will be closed until August 16 (photo; SGGP)
The director of Ho Chi Minh City Department of Health, Dr. Nguyen Van Chau, announced the spreading flu among high school students in the city has been curbed.
Ngo Thoi Nhiem High School, where the flu outbreak first occurred in a school, with nearly 100 students, has been converted into a makeshift hospital and no fresh outbreak has taken place for three days. The school has been disinfected to prepare for the new school year ceremony.
Meantime, around 10 students have been quarantined at the temporary hospital at Nguyen Khuyen High School. No fresh outbreak has been reported there, and the new school opening ceremony will take place in three to four days.
RMIT International University Vietnam is moving ahead with plans to re-open its Saigon South campus on Monday 3 August following a week of intensive cleaning and other preparations.
RMIT Vietnam's President, Prof. Merilyn Liddell, said today that Monday's re-opening would come after the completion of a series of further preventive and precautionary measures to tackle any potential spread of H1N1 influenza amongst its students and staff.
Apart from these schools, no flu has been reported in other such places, according to Dr. Chau.
Pre-schools and primary schools in District 8 have all been closed until August 16 by the district's Education and Training Bureau over flu fears, said Pham Kim Tuyen, a manager of Anh Linh private pre-school. No cases of flu have been reported in such schools in District 8.
In related news, fifty-six cases - a record number for a single day - were reported on July 31, the Ministry of Health said, taking the total number across the country to 850. Of them, 452 people have been discharged from hospital and no deaths reported.
The first case of a learner contracting the virus in Hanoi is a twelve grader of Lomonosov High School in Tu Liem District.
The student tested positive for the H1N1 virus after a tour to Thailand. He has been isolated at the National Institute of Infectious and Tropical Diseases.
The school has been closed until 3 August so that officials can spray disinfectant.
The flu continues spreading among employees working in office buildings in Hanoi.
A member of staff at the General Department of Technique, Ministry of Public Security, has contracted the virus and been isolated.