On January 26, one man in Phan Thiet City in the central province of Binh Thuan died after eating puffer fish (ca noc).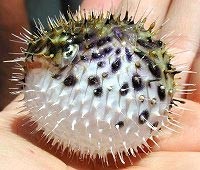 Puffer fish
Nguyen Van Thuan, 28, from Tien Thanh Commune of Phan Thiet City died from poisoning after eating puffer fish, at the An Phuoc General Hospital on January 26. Earlier, the hospital had received eight patients suffering from low blood pressure, headache, chest pain and nausea.
The relatives accompanying them told doctors that they had eaten puffer fish after which they experienced these symptoms.
On the same day, the General Hospital in Binh Thuan Province also admitted three patients poisoned after eating puffer fish.
Nguyen Thi Luom, the mother of one of the patients hospitalized in the hospital, said that her son Lieu and 10 of his friends had all eaten dried puffer fish which Lieu had caught.
After a few hours, some of them experienced symptoms of intoxication, numbness of the lips, tongue, and limbs and shortness of breath. They were taken to hospital for emergency treatment and most of them were saved except for Nguyen Van Thuan, who died at the General Hospital.
Three persons are still under intensive care for further observation and treatment, said Pham Ngoc Chau, deputy director of An Phuoc General Hospital.
Vietnam has around 40 species of puffer fish, which due to its poisonous substance is often called the 'death fish'. The Government strictly prohibits processing, trading and use of puffer fish in any form. Decree 681 issued in 2003 states this ban clearly. However, despite the ban, people still illegally trade in and eat the fish.