Hospitals quality management plays a very important role and if it's not done in a proper way, incidents can happen and repeat, Health minister Nguyễn Thị Kim Tiến said at a two-day conference on hospitals quality in Hà Nội.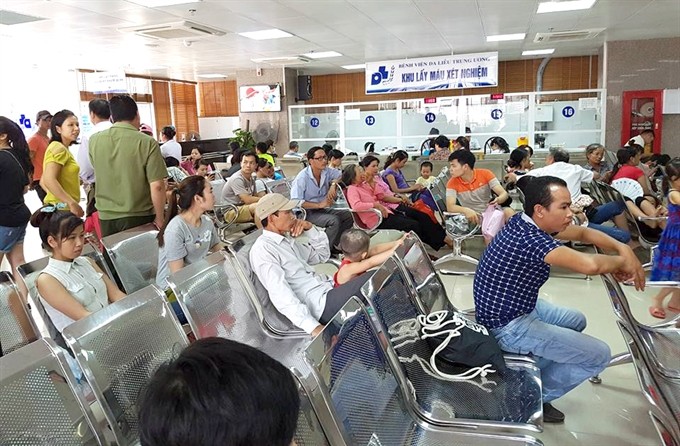 Patients waiting for their turn at a Hanoi hospital. — VNS photo Thai Ha
Improving a hospital doesn't happen in a day but requires determination and effort, she said.
Speaking at the conference organised by the Ministry of Health and the European Union delegation to Việt Nam, Tiến said unwanted incidents had caused huge damage to the reputation of hospitals in the country and to the health sector.
She noted some of the weaknesses of the health sector, including a lack of hospitality towards patients and medical errors.
"Medical errors can happen anywhere, but a good quality management system would help limit these errors," Tiến said.
Overall management
She also touched upon the importance of managers of hospitals, who she said "must be able to act like a CEO".
"We don't need to focus too much on professional skills when appointing people to the position of a hospital's director, but it's important that that person must have good management skills," she said.
"He or she must be able to manage the hospital well – from administrative matters, to human resources, financial issues, and unite the hospital's staff," she added.
Tiến said that if excellent doctors are appointed as hospital managers, they wouldn't be able to focus on their profession.
"We must utilise the talents of these doctors by letting them do their jobs, which include treating patients, teaching, and doing research," the minister said.
Hospitals quality assessment
Speaking about improving hospitals, head of the ministry's Medical Examination and Treatment Department, Lương Ngọc Khuê said after three years of applying the tool kit for hospitals quality assessment, many hospitals have improved.
"Patients are better taken care off, working conditions for hospitals staff are improved," he said.
"However, hospitals in southern areas have made better progress than those in the north and central regions," he added.
Nguyễn Huy Quang, head of the ministry's legal department said there were hospitals which were really determined to improve their services.
"In hospitals where the boards are determined, services improve considerably," he said.