Dr. Le Duc Tho, deputy head of Surgery Ward of the Children Hospital in the northern province of Thanh Hoa said that the condition of burnt patients is stable.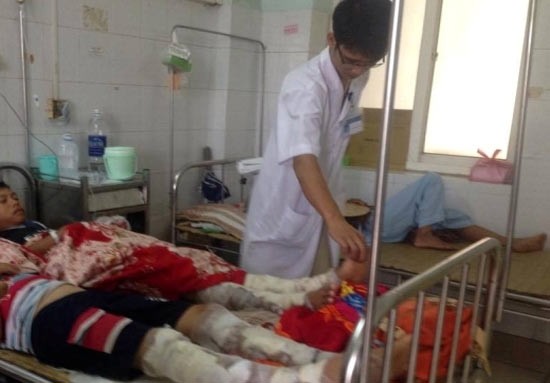 Patients are treated in Children Hospital in Thanh Hoa Province (Photo: SGGP)
31 patients were burnt in a campfire in Dong Anh Commune in Dong Son District on August 5. The fire began as a small, a man threw a bucket of petrol into the fire to make it bigger.
However, because it rained before so petrol ran following the rain water flow spread widely causing many adults and children burnt.
According to the initial statistic, around 75 people were burned and rushed to the general hospital in Dong Son District, Children Hospital and the general hospital in Thanh Hoa Province. Children Hospital has the most patients with 31 patients.
Doctors said 31 patients suffered burnt in second and third level, mainly in their feet and legs with the burnt areas of 9 to 15 percent. All patients received timely treatment and their health condition is stable so far. It is expected that they could be discharged after one week.
Police in Dong Son District arrived in the spot to investigate. Dong Anh local government supported each hospitalied patient with VND500,000 (US$23)