A two-month mass media and social mobilization campaign would benefit some three million farmers and local poultry traders by providing them with key practices to prevent and control avian and human influenza, said agricultural experts recently.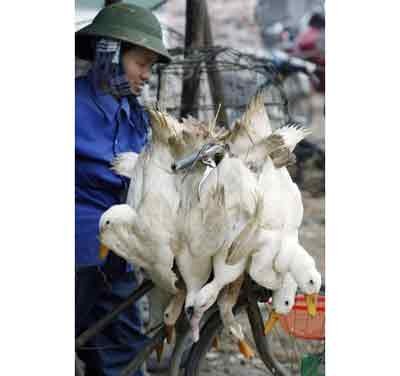 Farmers and poultry traders would benefit from the campaign ( Photo: AFP)
The Department of Animal Health, part of the Ministry of Agriculture and Rural Development, with funding from the U.S. Agency for International Development (USAID) this week launched a media campaign in the northern province of Ha Nam, the central province of Quang Tri and the Mekong Delta province of Kien Giang.
The "Three Good Things" program features audio spots through provincial radio and commune loudspeakers, 36 billboards in high-traffic areas and 200,000 flyers.
The campaign communicates three compelling human-interest stories, which promote the "good" practices of buying and selling healthy poultry, washing hands with soap and water before and after handling poultry, and immediate reporting of sick or dead poultry to the vet or village head.
These three practices will likewise be promoted through 30 market events to be held in major trading centers.
Provincial and district animal health officers of Ha Nam, Kien Giang, and Quang Tri have been directly involved in planning and carrying out the campaign.
Also with USAID support, the Department of Animal Health and the Food and Agriculture Organization late last month launched television spots highlighting changes to Vietnam's poultry vaccination program.
Aired on television and commune loudspeakers through December 2009 in the provinces of Hau Giang, Nam Dinh, Ninh Binh, Quang Binh and Soc Trang, these high-profile spots, featuring popular actor Han Van Tinh, will inform about four million farmers of the changes that will occur in the poultry vaccination program in their provinces.