The incidence of measles and respiratory problems among children in Ho Chi Minh City has increased twofold in the third week of November.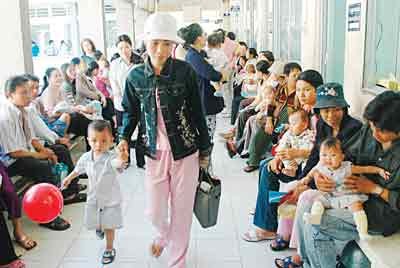 Parents and children await their turn to see a doctor at HCMC's Pediatrics Hospital II. The incidence of measles and respiratory problems among kids has been increasing recently in the city (Photo: SGGP)
Pediatric hospitals have been unable to cope with the influx of patients and as of November 23 many have been put in beds in lobbies and corridors.
At the Pediatrics Hospital II, Dr. Tran Thi Thu Loan, head of the Respiratory Ward, said the number of children with breathing problems has been rising since early November.
On November 23 the hospital admitted 176 patients though it has only 72 beds.
Children under five are vulnerable to respiratory diseases like asthma, pneumonia, and bronchial inflammation when weather turns chilly.
Dr. Trinh Huu Tung of the Pediatrics Hospital II said around 280 infants with such problems are in the hospital, double the normal number.
Hospitals are also seeing a rise in the number of children coming with measles. The Ho Chi Minh City-based Tropical Diseases hospital is treating more than 50 children.
Dr. Tran Van Ngoc from the Tropical Diseases said seven to 10 infants have been admitted with measles every day since early November while the Pediatrics Hospital II is currently treating some 200 patients.
Dr. Ngoc warned the disease could cause dangerous complications and spread among children and told parents to be careful about their children's personal hygiene, give them nutritious food, and inoculate them against measles.