HA NOI (VNS) — There is much room for improvement in the management of the quality and trading of home medical equipment, according to health experts.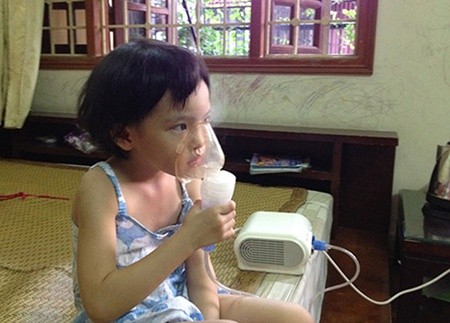 A child uses an inhaler. Home medical equipment lacks adequate management when it comes to both quality and trading. — Photo nld.com.vn
Dong Van Thanh, deputy head of the Health Examination Ward of the Ha Noi-based Bach Mai Hospital, said that in previous years, home medical equipment such as thermometers, inhalers and machines for measuring blood pressure and blood sugar were selling well.
The useful equipment helped people realise the state of their health and the need to prevent and control any detected disease, but some of the equipment being sold were of substandard quality, Thanh noted.
As a result, some patients were getting erroneous blood pressure and blood sugar readings on the defective machines and would learn, sometimes too late, that their health had worsened and required immediate medical treatment, remarked Thanh.
"Home medical equipment can only support treatment and disease supervision. The patients should not depend too much on them because they can give erroneous information," he added.
Moreover, the users could buy the equipment on the internet or from small health appliance stores to ensure that when the equipment malfunctions, they would be covered by warranty or repair guarantees.
Tran Thanh Tam, a trader of medical equipment on Phuong Mai Street, Dong Da District, said home medical equipment was selling like hot cakes.
Each machine was worth only a few hundreds of thousands of dong, so many people did not hesitate to buy, Tam added.
Nguyen Minh Tuan, director of the Department of Medical Equipment and Health Facilities under the Ministry of Health (MOH), told the Nguoi lao dong (Labourer) newspaper that in the draft decree on medical equipment management, which the MOH earlier edited and submitted to the Government, enterprises selling home medical equipment must send documents on equipment quality to local medical stations for review and inspection.
If the equipment did not measure up to standards, it should be taken off the shelves.
Nguyen Viet Cuong, chief inspector of the Ha Noi Department of Health, said that in the future, city inspectors would improve their inspection of the origins of home medical equipment that were being sold in shops.
"Residents should be vigilant of unlicensed products because these don't have instructions for use in Vietnamese and are not under warranty," Cuong said.