Despite preventive measures, Ho Chi Minh City and provinces have seen outbreaks of diseases. Diseases amongst kids seemed on upward trend, causing concern for parents.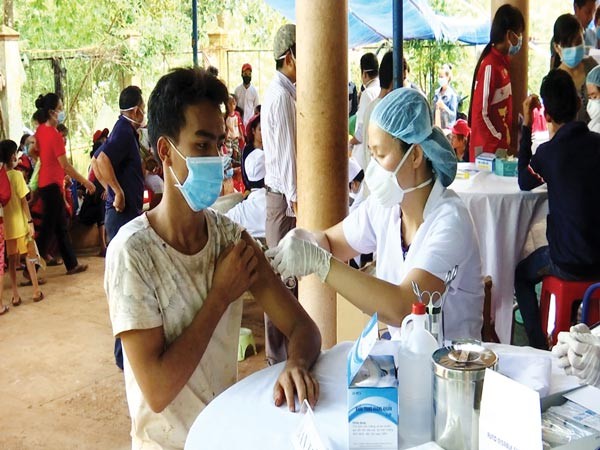 Health worker inject vaccine against diptheria for local in the southern province of Binh Phuoc to prevent the disease (Photo: SGGP)
Worse, medical experts fretted these diseases will transmit amongst students when students are coming back to schools..
While Deputy Prime Minister Vu Duc Dam was arriving in Highlands provinces to find out measures to curb dengue fever epidemic, the disease which has broken out since the beginning of the year continued to attack inhabitants in HCMC. The city Department of Preventive Medicine said that in July and half of August, around 200 people were hospitalized for dengue a week.
Even, an outbreak of dengue in Hoc Mon district has infected many people. As per the city Department of Health, outbreka of dengue occurred in village No.1 in Dong Thanh Commune in Hoc Mon since July 22 infected nine locals including one death.
The Children hospital No.1 in HCMC admits 40 - 50 dengue cases a day and the hospital is overloaded. Children Hospital No.2, Tropical Disease Hospital's Pediatric Ward are in the same condition. Especially, the Tropical Disease Hospital also admitted tens of adults with dengue last week.
As per the city Department of Health, since the beginning of the year, the dengue case has been up to nearly 9,000 cases, a rise of 72 percent compared to the same period last year, including three deaths.
Not only dengue, diphtheria and respiratory disease are transmitting amongst kids but also thousands of kids were taken to the Children Hospitals No.1 and 2 for examination and treatment of respiratory diseases. Along with this, hand-foot and mouth is recorded in the city with 120 - 150 cases a week. So far, there has been 3,000 cases of hand-foot-and mouth since the beginning of the year.
To prevent diphtheria enters the city, its Department of Preventive Medicine launched vaccination campaign against diphtheria, pertussis and tetanus for toddlers from 18-48 month old.
Deputy head of the Department of Health Dr. Nguyen Huu Hung said that some diseases, especially dengue fall in September and October. The department asked district authorities to adopt measures to curb dengue by killing mosquitoes and its larva.

The department also liaised with the Department of Education and Training to plan out preventive measures of disease transmission in schools. Overall, Dr. Hung said that people should actively prevent disease by full vaccination, eating hygienic food and keep their personal hygiene.