The Department of Preventive Medicine May 2 advised people to clean the house and keep the house airy to prevent measles.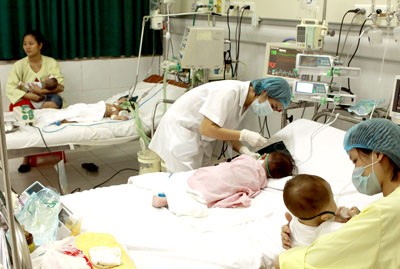 Measles children are being treated in the National Children Hospital in Hanoi (Photo: SGGP)
Measles is a highly infectious viral illness that can be very unpleasant and can sometimes lead to serious complications.

Measles virus is contained in the millions of tiny droplets that come out of the nose and mouth when an infected person coughs or sneezes. A person can easily catch measles by breathing in these droplets or, if the droplets have settled on a surface, by touching the surface and then placing your hands near your nose or mouth.

However, the measles virus can not survive in a house with sunlight or disinfectant.

The most effective way of preventing measles is to have the measles, mumps and rubella (MMR) vaccine, said health officials.

In the day, Nguyen Tri Dung , director of the Department of Preventive Medicine in Ho Chi Minh City said that measles outbreaks showed slowdown as the number of measles children falls.
Around 110-130 cases were hospitalized per week before but now it is 90 cases. The city continues to give free vaccination to children from nine to 36 month old. Currently the immunization rate is 95.7 percent.

Dr. Truong Huu Khanh from the Children Hospital No.1 in HCMC said that 10 percent of over 50 measles cases suffer complications mostly lung infections.

Dr. Nguyen Tri Dung warned of hand-foot-mouth outbreaks as the number of children contracting the disease is increasing. The city has over 200 cases of hand-foot-mouth a week. Medical official advised parents to keep good personal hygiene and environment.