Eight medical workers, the Head and the Deputy Head of the Department of Diagnostics at Hoai Duc General Hospital in Hanoi--all of who were involved in frauding patients, will be prosecuted for 'taking advantage of their position when on duty'.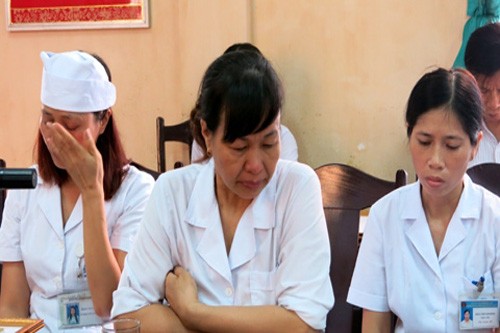 Health workers denounce the blood test scam to relevant agencies
At a meeting with Hanoi leaders on August 20, Major General Tran Thuy, Deputy Chief of Police in Hanoi, said that criminal proceedings will be filed against these people.
Director Nguyen Tri Liem and Deputy Director Nguyen Thi Nhien of Hoai Duc Hospital will be prosecuted "lack of responsibility causing serious consequences" under Article 285 of Viet Nam Penal Code.
Vuong Kim Thanh, Head of the Diagnostic Department; Nguyen Dong Son, a technician at the Department; and six employees, namely, Phan Thi Oanh, Nguyen Thi Xuyen, Nguyen Thi Nga, Vuong Thi Lan, Nguyen Thi Thu Trang and Nguyen Thi Hong Nhung will be prosecuted on charges of 'taking advantage of their position when on duty', under Article 281 of the Penal Code.
The case was brought to light following denunciation letters by some health workers of the hospital.
Investigation police officers said People's Supreme Procuracy on August 19 approved prosecution of the above and subsequently the very next day the police served the court order to the accused.
As per an initial investigation, police officers verified that from August 1, 2012 to May 31, 2013, the Hospital's Diagnostic Department had carried out 24,857 blood tests of which 1,495 patients were given the same test results.
The Health Insurance Company paid VND 21,000 (US$1) for each false test result.
The case has led to a public outcry.
Related articles:
Hanoi hospital suspends Director in forgery case

Police to investigate faked medical records in Hanoi Hospital