Ho Chi Minh City Party Chief Dinh La Thang December 7 and managers of departments liaised with the two hospitals in Thu Duc District about the treatment demand and orientation for taking care of people's health.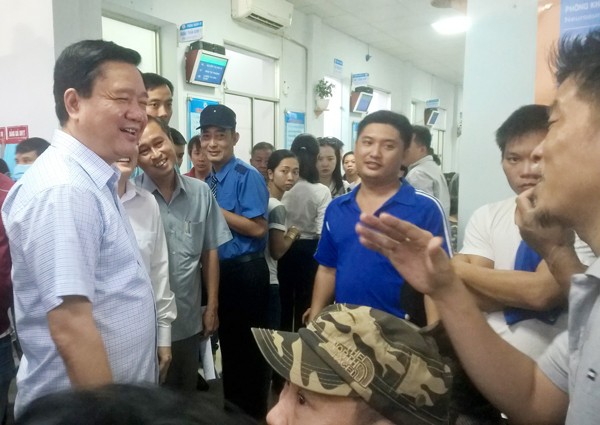 HCMC's Party Chief Thang talks to medical workers in Thu Duc Hosptial (Photo: SGGP)
Thu Duc Hospital director Dr. Nguyen Minh Quan said that the hospital has become the first-classed hospital as per the Ministry of Health though it has only three treatment rooms, four wards and 99 medical workers who have to provide the examination and treatment to 200 patients a day since its establishment. Now, it has 49 wards and rooms with 1,447 medical workers.
It admits 5,000-5,500 patients a day, 800 rooms for inpatients and the hospital has transferred very a few patients to big hospitals so far. Additionally, the hospital also applied many hi- tech equipments.

To reduce overloading, the hospital has opened its satellite clinics, said Dr. Quan. Because the facility is in poor repair, Dr. Quan petitioned the Party Committee and People's Committee to offer preferential loan for construction project in the third phase costing VND286 billion (US$12,598,300).

the City's Party Chief also dropped by the General Hospital Thu Duc which attracts fewer patients. Hospital director Dr. Trinh Dinh Thang said that the hospital admits around 1,800 outpatients and 600 inpatients a day; accordingly, abundant rooms have seen in the hospital. The hospital's new hospital construction project with 1,000 beds is in the middle of the way.

After considering the hospitals' real condition, representatives from the departments of planning and investment, finance, construction said that the expansion of hospitals is needed but it should have further consideration. The department of Planning and Investment asked the General Hospital Thu Duc to send reports of investment effectiveness and goal. The Department of Finance supported Thu Duc Hospital to be self-financing hospital in 2017 and the equitization in the coming time.

Highly appreciating the hospital Thu Duc and the General Hospital Thu Duc's achievements, Mr. Thang wondered about differences of prestige and service quality between the two hospitals questioning that whether city leaders should merge two into one to employ same infrastructure and personnel.

Mr. Thang urged the city Department of Health to re-arrange health system to work effectively and create favorable condition so that hospitals can operate like an enterprise. Hospital's managers should pay attention to medical workers' living and cooperate with international medical facilities,