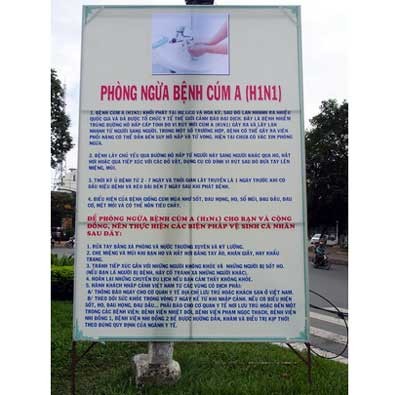 A board on Hoang Van Thu Street in HCMC's Tan Binh District explains to the public how the flu spreads and how to prevent it (Photo ; Tuoi tre)
The Ministry of Health needs to verify the competence of local medical establishments around the country in diagnosing swine flu, Dr. Nguyen Huy Nga, director of the Department of Preventive Health and Environment, said following the first death from the disease on August 3.

A 29-year-old woman died in Nha Trang after being diagnosed with swine flu only on July 31 though she had earlier gone to a hospital on July 25.
Since the A/H1N1 flu outbreak began in Vietnam, Khanh Hoa Province has reported 23 cases, including the death. The director of the province's Department of Health, Dr. Truong Tan Minh, said the deceased woman had not gone abroad or been in close contact with any foreigner. However, there had been an infection in her neighborhood, with the patient recently discharged from hospital.
Officials from the Ho Chi Minh City Department of Health monitored disinfection of Nguyen Khuyen High School before lifting restrictions on entry.
Makeshift hospitals at several schools have managed to contain swine flu, an official said, with no more high school students in the city contracting the disease.
The director of the department, Dr. Nguyen Van Chau, said the model would be deployed if there are large outbreaks.
Ten medical workers at the city's Thong Nhat and An Sinh Hospitals have contracted the disease.
Four doctors and five nurses who contracted the flu from a patient have been isolated in the hospital, Dr.Nguyen Duc Cong, the hospital director, said.
Medics are vulnerable as they come in contact with sick people every day, said Dr. Ly Ngoc Kinh, director of the central Health Examination and Treatment Management Department, said.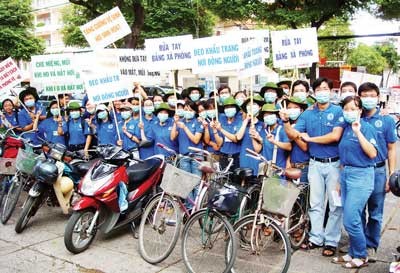 HCMC medical students hold placards explaining how swine flu is transmitted and how to prevent it at a bicycle rally they held in the city (Photo; SGGP)
The Ministry of Health has advised all medical workers to wear masks and wash their hands since the flu broke out in the country.

Hundreds of students from the city Medical University cycled on the streets on August 4 to publicize measures to ward off the A/H1N1 flu.

They advised people to wash hands with soap, clean their houses more often, and wear masks in public places.

Related article;
Vietnam records first swine flu death