Head of Pasteur Institute's Biological Product Testing Ward Dr. Cao Huu Nghia said that he always advised and encouraged his patients especially parents and female to inject HPV vaccine to have a healthy life.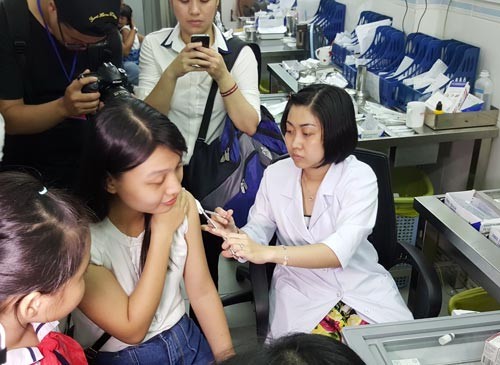 Young women are injected HPV vaccine in HCMC-based Pasteur Institute (Photo: SGGP)
HPV vaccination is recommended for 11 and 12 year-old girls. It is also recommended for girls and women age 13 through 26 years of age who have not yet been vaccinated or completed the vaccine series; HPV vaccine can also be given to girls beginning at age 9 years.

Chairman of the Vietnam Preventive Medicine Association Professor Nguyen Tran Hien said that around 490,000 women in the globe have cervical cancer per year and over 270,000 people died of the disease. Every two minutes pass, one woman in the world dies of cervical cancer.
It is estimated around 5,300 Vietnamese women get the disease annually and 2,500 people died of it.

Cervical cancer is one of the most common cancers and it caused high rate of mortality amongst women.

HPV vaccine can prevent the human papillomavirus (HPV) types that cause most cervical cancers as well as some cancers of the anus, vulva (area around the opening of the vagina), vagina, and oropharynx (back of throat including base of tongue and tonsils).

Professor Hien confirmed HPV vaccine was approved to inject for people on June, 2006 in the US. In Vietnam, it was allowed in 2008.