The upcoming Tet holiday (the Lunar New Year) is the time medical workers get busy because patients due to traffic accidents will be able to increase. Moreover, hospital managers make plans for normal examination and treatment mission and visiting inpatients during these special days.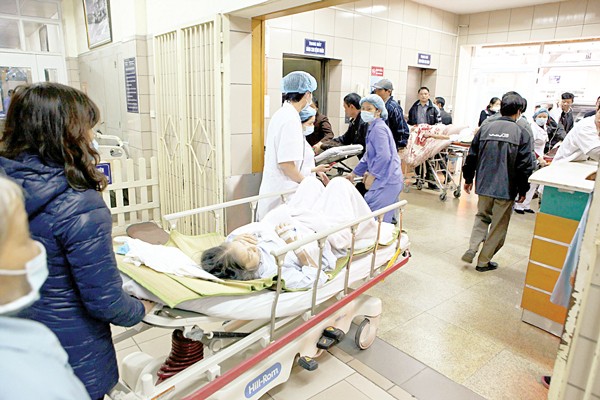 Medical workers are run off their feet to save patients (Photo: SGGP)
Being a leading hospital in the North, medical workers of Viet-Duc Hospital in Hanoi usually experience crowdedness as many patients are rushed to the hospital due to traffic accidents for emergency treatment; all doctors and nurses are mobilized. Hospital director Tran Binh Giang said that the number of patients in these holidays usually increase by 20-30 percent compared to normal days.

Around 500 patients will welcome the Tet holiday in the hospital this year.

To ensure the treatment mission during the holidays, managers have arranged schedule to assign people on duty in wards. Besides, the hospital also maintains emergency team who are ready to help their counterparts in districts or rural areas. Managers will visit inpatients who must stay in the hospital.

Similarly, Dr. Duong Duc Hung from Bach Mai Hospital in Hanoi said that managers will be on duty in the holidays to encourage staffs and take turns to send wishes to inpatients. During the Tet holiday, the hospital will give gifts to inpatients who will be served free-of-charge meals in three first days of the lunar new year.

Head of the Medical Examination and Treatment Department Luong Ngoc Khue said that the Ministry of Health ordered all hospitals must work around the clock to ensure for treatment mission during the Tet holiday.

In addition, preventive measures against seasonal diseases such as flu, measles, rubella, mumps, dengue and hand-foot-mouth or acute diarrhea, swine streptococcus and poisoning will be strengthened. Hospitals will coordinate with other clinics to curb the outbreaks of diseases.