Medical workers of People's Hospital No. 115 are proud of their skills in organ transplants. At its 10th anniversary of the first organ transplant, the hospital announced it has performed 63 organ transplants.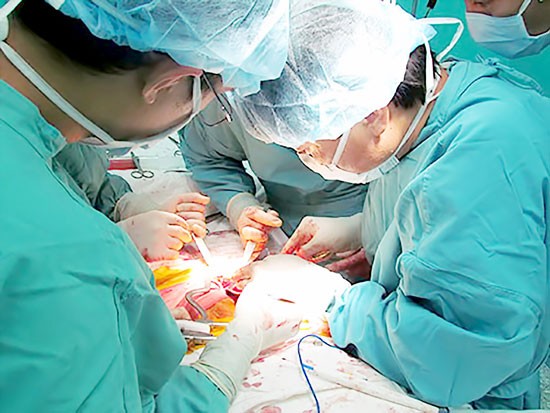 An organ transplant carried out in the People's Hospital 115 (Photo: SGGP)
Dr. Ta Phuong Dung, head of the Kidney Surgery Division , said that the hospital has brought lives to many people  who suffered serious kidney failure for years and waited for the death.
For instance, a 40 year old in Ho Chi Minh City thought he would die of final stage kidney failure yet he revived after a kidney transplant.

Dr. Phan Van Bau, the hospital's director, said that 112 patients who had  undertaken the organ transplant are under observation after their transplantation; of them, 106 had kidney transplants, 4 had liver transplants and two had pancreas- kidney transplants.
At first, foreign doctors have helped these organ transplants, but now Vietnamese surgeons have performed themselves without assistance of foreign counterparts. Short post –operation day and no deaths are achievements of these cases, he said.

Similarly, the Children Hospital No. 2 have conducted 12 kidney transplants and 8 liver transplant on children for 10 years since the first operation on 12 year old Huynh Nguyen Nhat Truc from the Highlands Province of Gia Lai with the 70-strong team including French surgeons and Vietnamese doctors. The donor is Truc's mother.
Dr. Truong Quang Dinh, deputy head of the hospital, said that it was great because Vietnamese doctors were capable to perform such operation without help of their foreign counterparts

Cho Ray Hospital, a leading hospital in Ho Chi Minh City, have been successful in performing two liver transplants with donors are alive. This brings hope for those who are suffering cirrhosis and liver cancer.

Luong Ngoc Khue, head of the Medical Examination and Treatment Department under the Ministry of Health, said that Vietnamese doctors were very interested in organ transplant; however, until 1992 the first case was carried out in the Army Hospital  No. 103.
Since then, the country has 102 medical clinics can perform such surgeries. Of them Ho Chi Minh City is leading in techniques and doctors' skills with more operations. Ten years ago patients had to flied to China, Singapore, Thailand or the US for such surgeries. but currently, organ transplantation have been  performed in the country at cheaper cost.

However, the source of organ donation is very rare; accordingly, many people are waiting for.  former chief of Liver, Gail and Pancreas Division of Cho Ray Hospital Professor Nguyen Tan Cuong said that over 1,000 people have waited for transplants every year  but donation sources can not meet the demand.

By statistic, Vietnam has around 900 people undertaking kidney transplants,  36 with liver transplants and 9 people with heart transplants. However, it is an urgent matter to find donation source for thousand waiting patients.