Pharmaceutical firms have raised prices of their medicines as a result of increases in the dong exchange rate against the US dollar and Euro without giving notice of the raises to local health departments.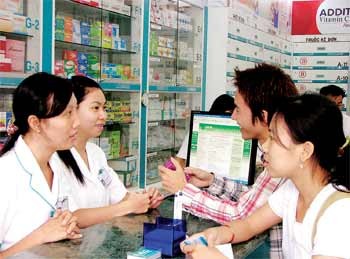 At a drugstore in Ho Chi Minh City
A drugstore's owner said pharmaceutical companies have continuously noticed him about price increases since November 1.
 
Switzerland-based pharmaceutical firm Novartis has asked drug wholesalers and retailers to raise prices of some medicines, with Genteal collyre increasing to VND64,000 from VND59,900 per bottle.
 
Quang Binh Pharmaceutical Company has hiked antibiotic Ciprofloxacin by VND5,000 to 50,000 per box, and Terpin Codein by VND2,000 to 42,000 per box.
 
Chinese medicines, functional foods, and imported specific drugs, vitamins and antibiotics have seen a sharp rise in prices too.
 
At a drugstore on Cong Quynh Street in HCMC's District 1, a box of Chinese medicine which helps to prevent cervicitis was traded at VND157,000 per box on November 2, up VND47,000 over few days ago.
According to a market research by the Viet Nam Pharmaceutical Companies Association, prices of many medicines increased by 3.8 percent on average in October. 
The medicine price hike has caused difficulties to hospitals as pharmaceutical companies have refused to supply them medicines.
 
The head of a hospital in HCMC said the hospital has failed to negotiate prices with companies when they have asked to raise prices, so companies have stopped providing medicines.