Medical workers in the mountainous districts in the North are not only suffering severe climate and far-off and difficult terrain but also working in the absence of facilities and equipment. Moreover, health sector in mountainous and rural districts is facing a workforce crisis.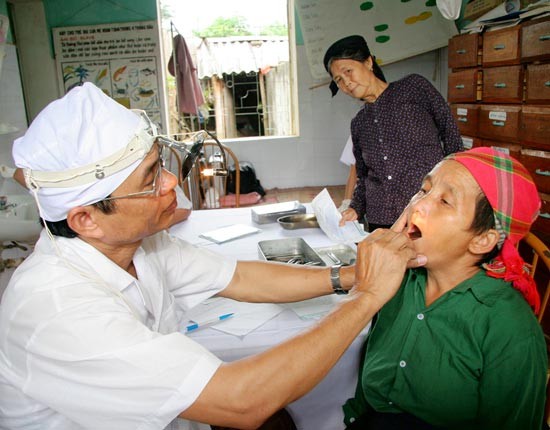 A doctor is examining a patient in a mountanious district in the North (Photo: SGGP)
Though the medical center of Muong Ang District, 50 kilometer far from Dien Bien Phu Town, it is just a few dilapidated cluster of houses with several health equipments.
Dr. Bui Thanh Hai, the center's director, said that in addition to facility shortage, Muong Ang is facing shortage of medical workforce, especially specialists.
The district has 191 medical workers with only six specialists. Medical centers are so poor and underserved that some people's committees and border guard stations are turned into medical centers to receive a large number of patients, said. Dr. Hai.

The Ministry of Health said that the 15 mountainous districts in the North have over 2,.560 medical centers; more than 2,200 of them are in poor repairs. The mountainous northern provinces of Ha Giang, Son La, Cao Bang, and Bac Giang have around seven doctors per 10,000 residents and 0.56 pharmacists per 10,000 population.

Dr. Nguyen Cong Huan, director of Health Department of Lai Chau Province, said that the province has 15 medical clinics and 108 centers. However, 70 percent of medical centers have been dilapidated and have no doctor.
To reach to remote villages such as Thu Lum, Ka Lang, and Muca for providing examination or treatment, doctors have to spend for one or two day walking.

Difficulties and scarcity of equipment, facilities and workforce have caused the treatment and healthcare mission in remote mountainous districts in the North to meet many troubles.
Nguyen Nam Lien, head of the Department of Planning and Finance under the Ministry of Health sad that statistics of malnourished children in the regions, showed that the mortality proportion of children aged under one and five is quite high compared to the country's average rate.

Health Minister Nguyen Thi Kim Tien pointed out that the region has extensive area of land and people live dispersively, the distance of medical clinics and villages is large which accordingly hinder inhabitants' access to medical services.
It is urgent to improve treatment quality in the areas, besides, it should focus on building more facilities which can provide good first-aid to local people.
The Ministry will spend more on medicine in remote mountainous districts. For instance, the Ministry will give VND100 billion (US$4,708,097) from the Millennium Goal Program on medicine building five standard medical centers each in 15 mountainous provinces in the North.
On the other hand, the Ministry will send more good doctors to these districts with aiming to help their counterparts and young physicians work voluntarily here.

The Health Minister stressed that the investment in remote mountainous districts not only helps reduce pressure on big hospitals in major cities but also bring more equality in accessing to medical services of people here.
She called for more contribution from the government to the medicine sector in disadvantaged regions nationwide.