Drug prices, which have remained quite stable, have started to edge up in the new year because of rising import costs and exchange rates, according to the Drug Administration of Vietnam.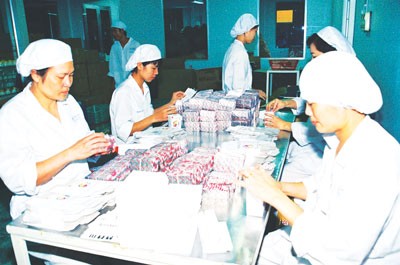 Drug prices are moving up after the dong weakened recently since even local manufacturers depend on import of raw materials (Photo:SGGP)
Wholesale pharmaceutical shops in Ngoc Khanh, Ha Noi, are crowded even late in the day as prices of some drugs rise 5 to10 percent, especially antibiotics and specialty drugs, some customers said.
Nguyen Ngoc Trung, a retailer, said Zinnat 500mg, an antibiotic indicated for treatment of infections caused by certain bacteria, cost VND226,000 a box now compared to VND207,000 some weeks ago. French-made Efferalgan 500mg has jumped from VND33,000 to VND37,500.
The situation is the same at wholesale pharmacies on Lang Ha, Van Mieu, Hai Ba Trung Streets and elsewhere. They have either put up prices or announced imminent hikes.
Hospital pharmacies said they have been informed by distributors and importers that the prices of several drugs are set to shoot up.
The Vietnam Pharmaceutical Companies Association said the prices of foreign-made drugs would go up by 4 to 10 percent since the dong has fallen against the dollar.
Moreover, with hospitals scheduled to make drug procurements at the beginning of the year, the prices of certain items will climb sharply.
Truong Quoc Cuong, head of the Drugs Control Department, explained that the economic downturn last year limited investment by drug companies, causing upward pressure on prices.
But he said his department would implement measures to check any price rise -- like inviting national bids for popular drugs and licensing more drug makers.
It also plans to monitor drug distribution and retail agencies, slapping harsh penalties on violators and ensuring enough supply in the market, he said.