The National Steering Committee for Voluntary Blood Donation yesterday in Hanoi held a meeting to honor 100 outstanding blood Vietnamese donors in response to the World Blood Donor Day on 14 June.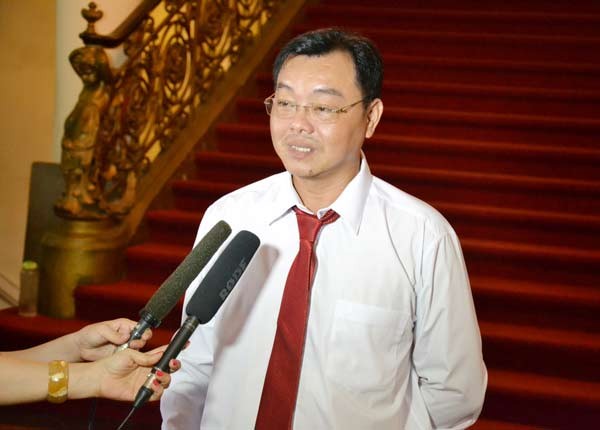 Mr. Nguyen Huu Thuan donates blood 85 times (Photo: SGGP)
This is also chance to the community and patients express their gratitude to blood donors.
Attended the meeting was head of the Party Central Committee's Mass Mobilisation Commission Truong Thi Mai and representatives from related agencies and departments.

100 representatives participating in the meeting come from 63 cities and provinces natiowide. Despite their different family condition, they all have good heart to this program. They have donated their blood many times especially Mr. Nguyen Huu Thuan in Ho Chi Minh City's District 1 who donated blood 85 times.

At the meeting, the oldest man is Nguyen Van Hung, 63 from the southern province of Tay Ninh. Mr. Hung's family members have donated blood 76 times and he himself donated blood 24 times and encouraged 100 others to donate blood.
The youngest donor is 20 year old Truong Thien Ho Thuyen from the Mekong Delta city of Can Tho and her family members donated blood 15 times and herself with 4 times.

The woman who donated blood 61 times is Nguyen Thi My Huong Thuy in HCMC. Of 10 outstanding blood donors, 24 people are members or volunteers of the Red Cross Society. Among them is Mr. Tran Van Truong, deputy chairman of Red Cross Society in the Mekong delta province of Hau Giang with 36 times of donating blood and encouraged 200 others to give blood to save patients.

From 2004, the World Health Organization and the International Red Cross Society, The International Society of Blood Transfusion and The International Federation of Blood Donor have decided to choose June 14 as the World Blood Donor Day. The theme of this year's World Blood Donor Day, 14 June 2016, is "Blood connects us all". It focuses on thanking donors. In Vietnam, its theme is "Share life - Give blood".