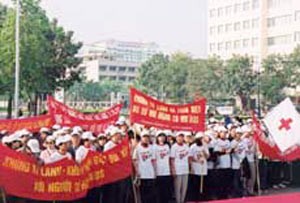 Over 1,000 of Vietnamese peolpe join a meeting to fight against the discrimination of HIV/AIDS patients.
More than 1,000 people working in various governmental, religious and charitable organizations this morning joined a meeting and a camp in 30-4 Park in Ho Chi Minh City to respond to the World AIDS Days (December 1).
Speaking at the meeting, Chairman of the Ho Chi Minh City People's Committee Le Hoang Quan said the city has successfully lowered the HIV infection rate among high-risk infected groups, which include drug addicts and sex workers; and thus reducing the infection rate among pregnant women and youths joining military service.
More importantly, mother-to-child HIV transmission rates have also been reduced by less than 5%, in comparison with the 30% rate without the program's intervention, Mr. Quan added.
Ho Chi Minh City has built 24 outpatient consulting rooms, of which 19 were supplied with anti-retroviral (ARV) drugs having the potential to well improve the health and extend lives of people with HIV.
Currently, there are around 10,000 HIV-infected people in the city, who volunteered for free healthcare service and over 3,500 AIDS patients were treated with ARV drugs.
In 2007, Ho Chi Minh City will continue to provide more services as well as improve the quality of medical treatments for people with HIV/ AIDS. Accordingly, the city plans to increase the number of patients having medical treatment to 20,000, of which 1,000 are children, 8,000 have free treatment and 9,000 will have access to ARV.
An estimated 4.3 million people worldwide, of which 2.3 million were children, became newly infected with HIV and an estimated 2.9 million lost their lives to AIDS in 2006. Meanwhile, the number of HIV/AIDS infected cases to the end of August 2006 in Viet Nam was 112,444, of which there were 19,152 cases of AIDS and 11,155 died of AIDS.
In Ho Chi Minh City, around 38,000 people have been infected with HIV/AIDS by the end of September. As many as 18,000 have developed into AIDS and nearly 6,000 have died. The most concern is that the epidemic has been spreading rapidly to residential community of different occupations, mostly between the ages of 20 and 29.
                                  (Source: Reports by the World Heath Organization and UNAIDS)