The entire Mekong Delta region is bracing to fight the spread of Avian Flu infection, particularly with free range poultry proving to be a threat in transmitting the disease to humans.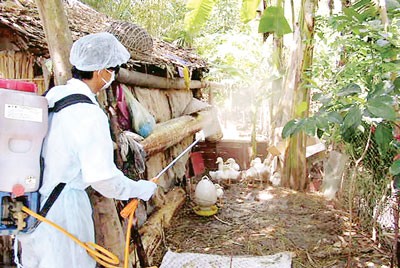 A vet sprays chemicals over the entire breeding complex and orders the breeder to move out temporarily ( Photo: SGGP)
Free roaming poultry is a serious threat to the transmission of Avian Flu during this time as farmers are harvesting their winter-spring crop. Vo Ba Hien, head of the Department of Animal Health in Dong Thap Province, said free range poultry is out of their control and for this they need the help of the people.
Free range poultry and water fowl feed on fallen rice grains from the harvest and other food particles left on the ground.
These then can be a serious threat as they become asymptomatic carriers of low pathogenic avian influenza and their long migration period can spread the disease in humans.
The Ministry of Agriculture and Rural Development is planning to submit a prevention plan to the government for the period 2013-2017. In the plan, the ministry has proposed a massive and wide scale vaccination campaign on water fowl and poultry, calling for the State and local government to bear the cost of vaccines with breeders pooling in towards other overhead expenses.
Le Minh Duc, director of the Department of Agriculture and Rural Development in Long An Province in the Mekong Delta, said a test result on the swallows that recently died in a breeding house at 136 Hung Vuong in Tan An Town showed negative for bird flu virus.
Nonetheless, vets have sprayed chemicals over the entire breeding complex and ordered the breeder to move out temporarily. As of now, the province has 24 bird breeding houses with around 5,000 swallows.