Head of the Department of Husbandry and Animal Health in the Mekong delta province of Dong Thap yesterday said that the bird flu is developing complicatedly thus the animal health sector in coordination with local administrations and breeders should enhance reactive approaches.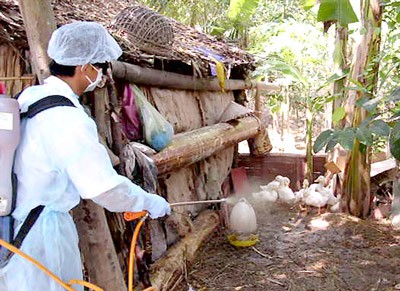 A vet sprays disinfectant in the affected farms (Photo: SGGP)
For instance, since the beginning of the year, the vet force has administered 2 million vaccine shots against bird flu virus on poultry in the province. At present, local governments continue checking water fowl in the province for further injection of vaccine. Administrators have tightened controlling over transportation of poultry in districts Tan Hong, Hong Ngu and Hong Ngu Town - border crossings with Cambodia.

Meantime, the Department of Husbandry and Animal Health in Tien Giang Province said that a bird flu A/H5N1outbreak was detected on a flock of chicken; consequently, 860 poultry of breeder Nguyen Van Toan in District Cai Be were culled.

Tien Giang Province has a large clock of poultry with 12.2 million; accordingly, the local administrators take heed to the disease prevention. The vet sector focused on injecting vaccine against A/H5N1 for the first phase with the immunization rate of 79.6 percent on duck and 90.19 percent on chick.
Additionally, the province keeps an eye on the pandemic to early detect outbreaks to curb the spreading. Moreover, disinfection is carried out from now to March 23 with cleaning farms.

In An Giang Province, head of the Husbandry and Animal Health department Tran Tien Hiep said that the People's Committee ordered districts and vet forces to adopt measures against the disease as well as ban transportation and sales of smuggled poultry through border gates. A reward of VND500,000 will be given to those who inform dead or ill poultry and unvaccinated water fowl.

Soc Trang Province also focused on prevention of bird flu which occurred in some localities in the province. The Department of Agriculture and Rural Development said that all ill poultry was killed and vets carried out disinfection task in the affected areas as well as tightened transportation, slaughtering of chicken in the province. Furthermore, authority boosted vaccination in small farms in rural districts.