Since the beginning of the year, Can Tho City Children's Hospital has treated over 310 cases of dengue fever, with 96 at the serious levels III and IV. Most patients are from Can Tho City, Hau Giang, Soc Trang, Vinh Long and Dong Thap provinces.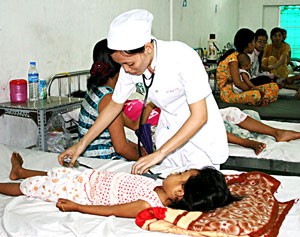 Children with dengue fever are treated at the Can Tho City Children's Hospital (Photo: SGGP)
The epidemic has come in the dry season instead of rainy season as typical, Le Hoang Son, director of the hospital said.
The country does not have dengue vaccines, as such, main prevention plans are to reduce the chances of disease by killing mosquitoes and cleaning accommodation, he added.
A 10 year old girl from Vinh Long Province has level III dengue and has been treated at the Can Tho City Children's Hospital. Her mother, Nguyen Thi Thu Ha, said that she was very busy, so she could not clean her house and garden, this has led to a lot of mosquitoes around the house.
Nguyen Thi Kieu Oanh, mother of a nine year old patient said, "My child is at school all the day, thus I could not know when she was bitten by mosquitoes."
The weather has been changeable this year. The increase of unseasonal rains has created advantageous conditions for mosquitoes, director of the Can Tho City Preventive Health Center Nguyen Trung Nghia said.
If we do not have effective solutions, the dengue epidemic will easily spread, Mr Nghia said.
Can Tho City authorities have deployed solutions to prevent the dengue epidemic. They have organized training courses on dengue prevention for teachers so that they can teach their students.
The city has also provided schools with equipment to help families breed fish in places with mosquito larvae.
This April, Can Tho Health Department will conduct a campaign to destroy mosquito larvae in 11 wards where dengue fever may break out.
Bac Lieu Province currently has 239 cases. The provincial preventive Health Center has coordinated with authorities to prevent the epidemic, such as mobilizing people to kill mosquitoes in their homes.
All districts in Hau Giang Province have reported cases of dengue. The number of patients from Vi Thuy and Chau Thanh A districts and Vi Thanh town has strongly increased over the same period last year.
The Hau Giang Health Department said that unseasonal rains have helped to increase the numbers of mosquitoes, leading to a dengue epidemic in the coming rainy season.
Authorities in the province have increased awareness programs to reduce the possibility of an epidemic.