Mekong Delta provinces need more than 10,000 health professionals added to its workforce in the next five years, a conference in the city of Can Tho was told yesterday.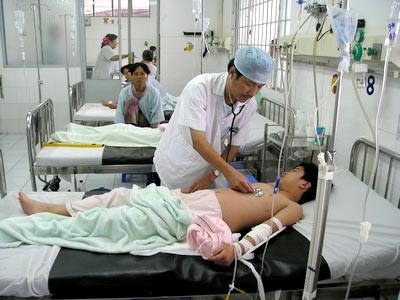 A doctor examines a dengue fever patient at the Can Tho Children's Hospital
Participants in the conference organized by the Ministry of Health reported that the region now has 7,737 doctors, 2,075 pharmacists with high-school education, 368 pharmacists with university education, 5,731 nurses and more than 1,000 medical technicians.
This line up means that for every 10,000 residents, the region has only 4.81 doctors, 0.21 pharmacists of university level, 0.16 nurses with bachelor's degrees, and 0.12 medical technologists with bachelor's degrees.
Therefore, to meet its development needs, by 2013, the region needs to have an addition of 3,398 doctors, 1,670 pharmacists of university level, 4,173 bachelors in nursing, medical technique and public health, and 2,152 postgraduate experts, the conference was told.
To this end, the region will expand the scale of education and training by 20 percent per year.
Speaking at the conference, Deputy Minister of Health Nguyen Thi Kim Tien said that it was not just the Mekong Delta but the country as a whole that is faced with a lack of human resources in the health sector, both in terms of quality and quantity.
As a result, the health sector has yet to satisfactorily meet the need of healthcare and medical treatment among the public, she added.

To solve the problem, one of the solutions is to have incentive policies for talented people adopted by each province and city, participants said.
At the same time, each local government needs to require those assigned to study at other localities to pledge that they will return and serve the locality after they graduate, they added.