The hand-foot-mouth disease is once again plaguing parts of the Mekong Delta region, in particular, areas in and around Soc Trang, Can Tho and Vinh Long.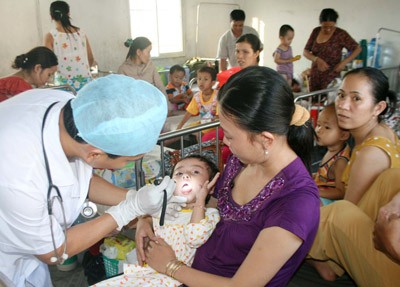 A doctor of the Children Hospital in Can Tho City examining a hand, foot, mouth child (Photo: SGGP)
Pre-school students in Cu Lao Dung District of Soc Trang Province returned to school on March 13 after a 10 day break, to prevent spread of the disease.
Teacher Nguyen Thi Be Hai, head of a pre-school in Cu Lao Dung, said the staff have scrubbed clean all toys and disinfected all corners of the school to ensure environmental hygiene.
The provincial health authorities confirmed 400 cases of hand-foot-mouth disease since the beginning of the year.
Meanwhile Can Tho City recorded an increase in the number of hand-foot-mouth infected children, resulting in overload at the Children Hospital where patients from Hau Giang, Vinh Long, and Soc Trang Provinces swamped after the outbreak.
According to health authorities in Vinh Long Province, hand-foot-mouth cases have doubled from the same period last year. Since the beginning of the year, more than 660 cases have been reported in the province, an increase of 330 cases.
Most of the patients are pre-school students from Vung Liem, Long Ho and Tam Binh Districts.