Complicated developments in hand-foot-mouth disease and dengue fever are forecast in the near future as both diseases have once again begun to plague the Mekong Delta region, reported the regional health department.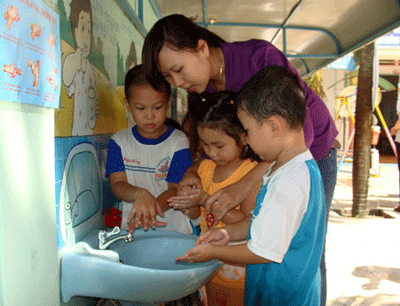 A school teacher in the Mekong delta region instructing young children how to wash hands properly
The Health Department in An Giang Province said the province has around 1,300 cases of hand-foot-mouth infections, tenfold more than during the first three months of the year.
The province is currently leading the country with the highest number of infectious cases and a total of seven deaths.
Local hospitals are being flooded with more than 50 inpatients each day, according to the health sector.
Dr. Vo Huy Danh, director of An Giang Preventive Medicine Center, said that staff from the Center will distribute 1,500 cakes of soap to families who have children below the age of five from June 15 to June 22, as well as raise parents' awareness of the deadly hand-foot-mouth disease.
In Can Tho City in the Mekong Delta, there has been a surge of hand-foot-mouth infections in little children. Dr. Le Hoang Son, director of Children Hospital, said the hospital is treating 50 inpatients every day, an increase of 7 per cent from previous months.
The hospital is in poor shape hence doctors have to classify patients; slightly infected children can be taken home and only seriously ill toddlers are being hospitalized, Son said.
Hand-foot-mouth cases in the Mekong delta provinces of Ben Tre, Soc Trang and Bac Lieu are showing an upward trend. Regional health authorities forecast that HFM infections in the region will increase during the peak months from June to November, because of the rainy season.
Meanwhile, dengue fever too is causing havoc in the Mekong delta provinces of Hau Giang and Dong Thap.
Doctors in Hau Giang hospitals said the development was faster than usual as dengue infections tend to jump in June.
Local infections since the beginning of the year have totaled more than 160, higher than that in whole of 2011. The disease seems to occur usually soon after harvesting and the rainy season, from June to October.
Meanwhile, health authorities in Dong Thap Province are focused on eradicating both the diseases in Hong Ngu, Chau Thanh and Tam Nong Districts, by paying particular attention to curbing spread of further infection.