One of content discussed in a conference on medical personnel for the Mekong delta region is shortage of medical experts in five rare specialities.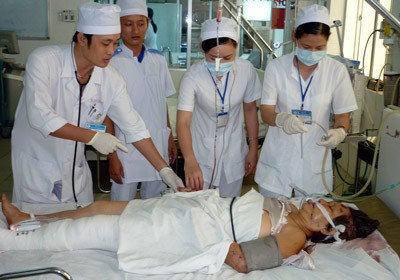 A doctor instructs medicine students how to treat patients in the General Hospital in Can Tho City (Photo: SGGP)
The conference held by the Southwestern region Steering Committee and Medicine University in Can Tho City yesterday.

By the university's statistic, in 2008, the proportion of doctors and pharmacists over 10,000 people in the Mekong delta region was 4.26 doctors and 0.22 pharmacists, lowest in the country. Accordingly, to meet the demand of major medical personnel, the University has expanded training works.
As result, in 2015, the rate increased to 6.35 doctors and 1.39 pharmacists over 10,000 inhabitants. However, the shortage of medical workers is still drastic.

In fact, the shortage of surgeons, tuberculosis, leprosy, forensic medicine and mental health is the most critical. The whole region merely has 152 doctors of five above –mentioned specialities yet by 2020 half of them will get retired. For instance, 13 provinces have 13 forensic medicine centers yet only 4 medical workers are working in the centers.
Additionally, the region has 8 hospitals to treat tuberculosis and lung diseases but just a few doctors work; some provinces have 1-5 doctors.

Worse, Kien Giang Province has no tuberculosis doctor. 5 provinces have no surgeons to treat tumor patients. By statistic, the region needs 250 doctors a year. It is thirsty for tuberculosis doctors most. The Committee and University liaised with the Ministry of Education and Training to recruit more doctors for the five specialities above.

For the period 2016-2020, the demand for the region is 4,912 doctors and 1,997 pharmacists.