The Ministry of Health stated at a meeting in Hanoi on Saturday that implementation of the Methadone Maintenance Treatment Program (MMTP) has yielded positive results after three years in Vietnam, much better than expected.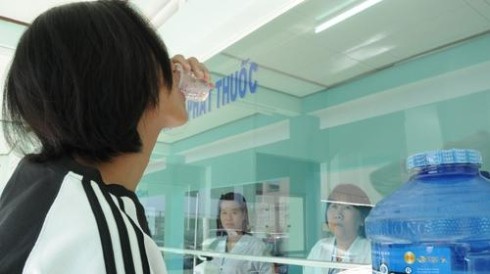 A patient drinking liquid methadone in District 8, HCMC (Photo: Tuoitre)
The program went better than expected with 11 provinces and cities across the country having so far conducted the Methadone Maintenance Treatment Program with 41 medical clinics for 6,440 former drug users.
Accordingly, the ministry plans to implement the first phase of the program in 13 provinces and cities, to treat around 15,600 former drug-addicts in 2012.
The second phase, set to begin in 2013-2015 will enable around 80,000 drug addicts to receive treatment in 17 provinces and cities.
Deputy Prime Minister Nguyen Xuan Phuc, Chairman of the National Committee for HIV/AIDS, drugs, prostitution prevention and control presided over the meeting. He stressed that social order and security in districts where drug addicts lived have improved much, thanks to the Methadone Maintenance Treatment program.
In addition, the numbers of drug addicts violating the law have decreased from 40.8 percent to 1.34 percent after 24 months of treatment. Yet Phuc says this is only an initial assessment, and more time is needed to bring about real changes.