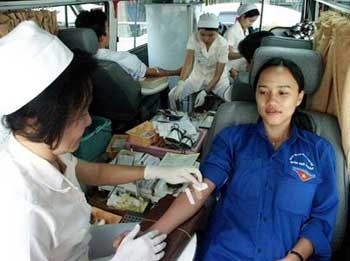 Volunteer young people donate blood in Da Nang province
Military Hospital 103 of the Viet Nam People's Army (VPA) begins upgrading its blood center this week.
The upgrading of the center aims to increase its production capacity to meet the demand for safe blood within the military medical system.
In addition to renovation, a service outlet for voluntary counseling and blood testing will be constructed adjacent to the center.
The upgrade is part of a HIV/AIDS prevention and treatment program nationwide funded by the United States' Emergency Plan for AIDS Relief (PEPFAR).
The military program also includes workshops on advocacy, counseling, and laboratory techniques to combat HIV/AIDS.
The PEPFAR is currently financing two blood transfusion centers in the VPA's military medical system.
Renovation at the second blood transfusion center is expected to begin at the end of this year at Military Hospital 175 in Ho Chi Minh City.
Other enhancements to the VPA's safe blood PEPFAR program include expansion of laboratory capacity to screen all donated blood for HIV, and promotion of voluntary blood donation among low-risk populations.
This is the first international collaboration focused on augmenting the VPA's blood safety system.