In an online conference on tightening control over food safety between leaders of ministries of Agriculture and Health with provincial committees in the country on October 19, Agriculture Minister Cao Duc Phat said making unsafe food for profits is a crime as it damages health condition of tens of millions of consumers.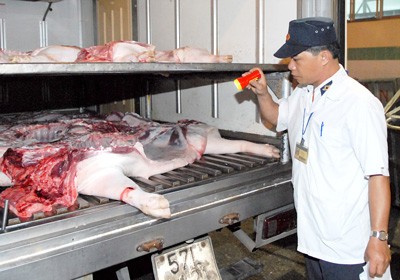 A health inspector checks pork meat(Photo:SGGP)
Nguyen Nhu Tiep, head of the National Agro-Forestry Fisheries Quality Assurance (Nafiqad) under the Ministry of Agriculture and Rural Development said that according to the figure of food safety in 9 months of the year, the number of unsafe food is still as high as last year.
There has been the presence of banned chemical residues in 1.01 percent of fish; and in 10.3 percent of vegetables. 16 percent of meats have Samonella bacterium; 7.6 percent of meats have chemicals exceeding the allowable limits.

Averagely, through testing, the proportion of veggies with pesticide residues exceeding the limits is 6-8 percent annually.

Nguyen Thanh Long, Vice Health Minister, said that in 9 months of the year, inspectors from the health sector have conducted 20,444 irregular checks to 344,000 food manufacturers across the country discovering 65,360 violations ( accounting for 19.4 percent), a decrease of 21 percent compared to the same period last year.

Averagely, each violating company was issued a financial penalty of VND2.76 million (US$123.3)

Agriculture Minister Cao Duc Phat said that management in agricultural, husbandry and fishery is not much improved compared to last year though related agencies paid more check to farms. Animal breeders still overuse chemicals, preservations and pesticide accidentally damaging the prestige of Vietnamese products in the eye of consumers in the country and in foreign countries.

Minister Phat raised a question that animal breeders can  buy banned chemicals such as Clenbuterol and Salbutamol which are allowed to import into the country to produce drugs; accordingly there has been  relaxed management in these chemicals.
He proposed the Ministry of Health tighten the control of importing these chemicals and the Ministry of Public Security should join hand with the two ministries to trace the banned drug smuggling operation to raze.

A representative from the Ministry of Public Security said that this month, the ministry planned to crack down food safety and hygiene violations in the country; accordingly, the two chemicals Salbutamol and Clenbuterol will be under the close observation.

Addressing the meeting, Deputy Minister Vu Duc Dam said that sales and use of banned chemicals in husbandry must receive harsh penalties or even violators will be put in prison to deter them from committing the crime.  In addition, local governments and farmer associations and women unions should join hand to give warning to each farmer household of the new regulation.

Tet holiday ( or Lunar New Year) is upcoming which a large quantity of meat will be consumed ; hence ministries should work together to conceive measures against violation in food safety.