After three people with swine flu were found traveling by train from Ho Chi Minh City to Hanoi on July 26, the Ministry of Health has sounded a warning about the threat of contracting A/H1N1 by using public transport.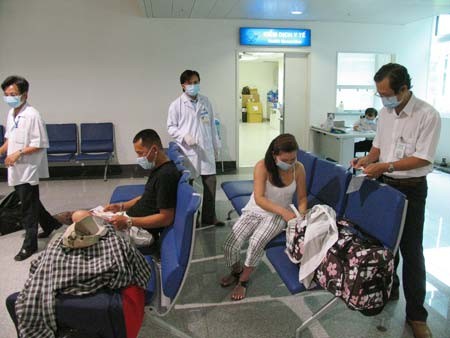 Infected people quarantined at Tan Son Nhat Airport, Ho Chi Minh City (photo: SGGP)
The passengers on the train were told to isolate them at homes, monitor their health condition and inform health authorities immediately if they suffer flu symptoms of fever, cough and sore throat.
Meanwhile, the disease continues to spread in Vietnam, with 45 more new cases reported on July 26, taking the total number so far to 612, health officials said.
The Department of Preventive Medicine in the southern province of Binh Duong said an expatriate working for T.H.P Company tested positive for the virus and he is also suspected of transmitting it to a colleague.
Health authorities have quarantined them as well as a third person with flu symptoms who had been in contact with them.
The deputy director of the Department of Preventive Health in the central province of Ha Tinh, Nguyen Luong Tam, confirmed July 26 that a 30-year-old man died of bird flu at the General Hospital.
Vo Cong Tam had been rushed to hospital the previous day with pneumonia, high fever, headache, muscular and joint pain, cough, breathing difficulty, and vomiting.
Doctors diagnosed him as having avian influenza and isolated him. They found his lung to be seriously damaged. He died on July 26.
Health workers later found diseased poultry at Mr.Tam's house. He also had contact with a relative, Ms. Nguyen Thi Dao, a teacher at Ngo Thoi Nhiem private High School in District 9 where 73 students and five teachers have contracted swine flu.