Nguyen Thi Kim Tien, the Minister of Health, on Tuesday chaired a conference to gather opinion on ways to increase health insurance in about 75 percent of the country's population by 2015 and 90 percent by 2020.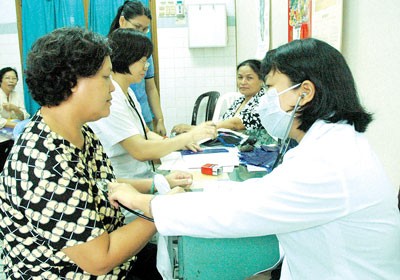 A doctor conducting a medical check-up on a health insurance seeker at Nguyen Trai Hospital in HCMC (Photo: SGGP)
Tong Thi Song Huong, head of the Health Insurance Department, said that by the end of last year the number of people buying health insurance was 55.9 million, accounting to 63.7 percent of the country's population, of which 26 percent were voluntarily seekers.
Ms. Huong said that most of the people voluntarily buying health insurance are those suffering from chronic ailments while only a few healthy people were still doing so.
According to delegates at the conference, most private businesses have not paid or not fully paid health insurance for their employees.
Neither have some local authorities created conditions for people to access and find out about benefits they can enjoy after buying health insurance.
Besides, medical check-ups and quality of treatment are not up to the mark at health clinics in wards and communes, due to shortage of doctors and equipment.
This has led health insurance seekers to avoid taking check-ups and treatment at their local centers, said Luu Thi Minh Huyen, deputy director of the Social Insurance Agency in Ho Chi Minh City.
Nguyen Hong Vy, deputy director of the Health Department in Tien Giang Province, said that it is necessary to improve service quality at health clinics in wards and communes, so as to encourage more people to register for health insurance.
Minister Tien proposed to local authorities to build their own projects to achieve the target to cover 75 percent of the population for health insurance by 2015 and 90 percent by 2020.
She asked health clinics and hospitals to improve their services and adopt a caring attitude towards patients for them to understand the value of health insurance.