The Ministry of Health held a meeting on March 10 to review what they had done in inspecting food safety in Hanoi and Ho Chi Minh City.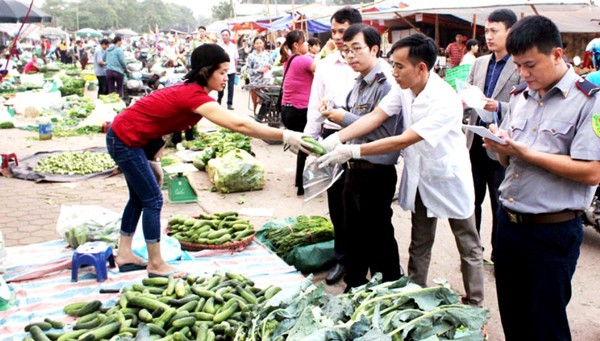 Inspectors visit a market in Dong Da District in Hanoi to inspect food safety (Photo: SGGP)
As per the Administration of Food under the Ministry of Health, after one year of implementation of food safety inspection in districts and wards in Hanoi and HCMC, mission teams paid visits to 3,536 production units and businesses in Hanoi and 3,968 in HCMC.
Inspectors issued financial fines to 371 and 923 businesses collecting VND1.2 billion and VND4.1 billion in Hanoi and HCMC respectively.

Noticeably, during inspection times, food poisoning cases in the two cities decreased. There had been no food poisoning incidents in Hanoi while there had been only one in HCMC.

Because of positive results of the pilot food safety inspection program in districts in the two cities, Deputy Health Minister Truong Quoc Cuong, the Ministry will propose the government to allow expanded the program.

The Northern City of Hai Phong, the Central City of Da Nang and the Mekong delta City of Can Tho plus the northern province of Thanh Hoa, the central province of Ha Tinh and the highlands province of Gia Lai also proposed in writing to carry out the program in one year.

Before, the Prime Minister gave the green light to Hanoi and HCMC to implement food safety inspections in several districts and wards from November 15, 2015 to November 15, 2016.  the program was carried out in wards 2 and 6 in District 3, wards 7 and 13 in District 5, wards An Lac A and Binh Tri Dong B in District Binh Tan, wards Vinh Loc A and Binh Chanh in District Binh Chanh and communes Tan Hiep and Hoc Mon in District Hoc Mon.