In the wake of an increasing number of maternity deaths, the Government had asked the Ministry of Health to determine the causes and identify those responsible.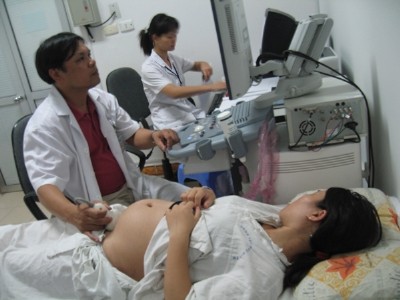 Frequent medical checkups during pregnancy can reduce risk to mother and child at an early stage
The ministry sent a report to the Government on July 6, saying that it would not conceal any wrongdoings of medical workers or blame the recent spate of maternity deaths on external causes but will study carefully all aspects of the seriousness of the situation.
According to the Ministry of Health, from April 20 to June 29, a reported 22 maternity deaths in state-run and private hospitals occurred in the country. In some cases, the babies died along with their mothers.
The central province of Quang Ngai has reported the maximum number of maternity deaths with four cases; Ho Chi Minh City with three cases; northern provinces of Bac Ninh, Hung Yen, Thai Binh; the central provinces of Quang Nam, Khanh Hoa, Binh Dinh; the southern provinces of Dong Nai, Ca Mau reported one or two cases   each.
Nguyen Viet Tien, deputy minister of health, said rapid and unpredictable developments in the related cases were the main cause of these maternity deaths, and called on all obstetricians to pay more attention to prenatal health checks and diagnosis so as to anticipate potential problems that many arise during labor and childbirth.
However, health authorities will examine the doctors' skills in being able to handle emergency maternity care and follow correct treatment procedures. Doctors' skills will be studied in great detail so as to verify individual and team responsibility in every case, and subsequently penalize concerned individuals.
The ministry admitted that the main factor stopping investigation of the maternity deaths was that relatives of the dead patients did not wanting an autopsy.
In addition, the ministry has recently sent a dispatch to provincial and municipal people's committees to step up preventive measures so as to reduce the maternity mortality and accident rate, ordering the departments of health to rearrange the mother and child health care and reproductive system.
In particular, the ministry wants central hospitals to transfer related techniques for emergency treatment in maternity care so as to discover risks in mothers and babies at an early stage, and pre-empt and prevent unwanted accidents as well as raise awareness of health care in pregnant women during pregnancy.
The ministry also stated clearly that hospitals should provide a detailed and careful explanation to relatives of the dead pregnant women as well as explain to the public, so as to clear worries and concerns among people.