The Ministry of Health will launch a pilot project to send young doctors to remote mountainous districts, border crossings, islands and disadvantaged areas as a top priority.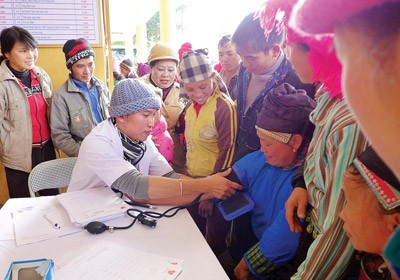 The file photo showing a doctor from Ho Chi Minh City Cardiac Institute examing patients in northern province of Ha Giang last week.
Initially, the project will be launched in 20 of the 62 poorest provinces for the period 2013-2016 with 500 doctors, some of them being new graduates and some already working in private clinics.

Volunteer doctors will work in poor districts for a minimum of 3-5 years for male doctors and 2-3 years for female doctors. They will enjoy preferential policies in recruitment, salary, allowance and training.

In related healthcare news, the National Nutrition Institute said that children below the age of five suffering from malnutrition account for 16.8 percent and underdeveloped children for 27.5 percent.
The national strategy for the period of 2011-2020 with vision for 2030, expects to reduce this percentage to 15 percent of malnutrition cases in children below the age of five and 26 percent in underdeveloped children.

The first doctors will be sent to the rural areas on the occassion of the Vietnam Doctor's day on Feb. 27th this year