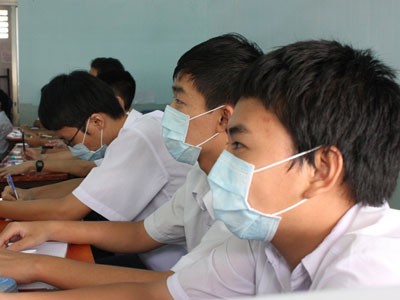 Pupils at Nguyen Khuyen School in Ho Chi Minh City wear masks to prevent flu in class
The Ministry of Health has not yet confirmed that a 56-year-old woman on September 4 died of swine flu related illnesses, although its subdivision in Ho Chi Minh City Saturday announced she had tested positive for the A/H1N1 virus.
The ministry on September 6 confirmed 154 more cases of A/H1N1 influenza, bringing the total number of such flu cases in the country to 3,636 and two confirmed deaths.
A total of 1,568 patients have so far been discharged from hospital after receiving treatment. The remaining are under quarantine and being treated at medical clinics nationwide. All are reported to be in a stable condition.