Fourteen hospitals have signed commitments to try and end the practice of putting two or three patients in a bed during overcrowding, according to Government website chinhphu.vn yesterday.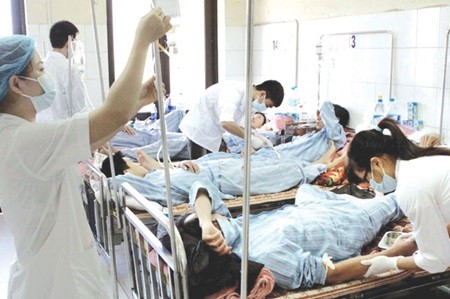 Overcrowding is common at the National Hospital of Tropical Diseases. — VNA/VNS Photo Duong Ngoc
To achieve this objective, at a forum yesterday, the Ministry of Health identified seven tasks for the sector in 2015.
Participants at the forum were Nguyen Thi Xuyen, Deputy Minister of Health, Nguyen Van Tien, Vice Chairman of the National Assembly Commission for Social Affairs, representatives from the Ministry of Health, the National Paediatric Hospital and the Viet Duc hospital.
Answering a question put by the anchor on how he responded to the agreement of central hospitals to eradicate the situation where two or three patients share a bed, Tien said the forum was good news for the health sector and the public.
Le Thanh Hai, director of the National Paediatric Hospital, said that the practice had ended during the past four months.
He said his hospital had eradicated the problem by deciding that up to 30 per cent of patients could be treated as outpatients at other hospitals.
"With support from the Ministry of Health and kind-hearted people and organisations, we implemented three measures. Firstly, we enlarged our outpatients examination ward from 30-40 rooms to 60 rooms.
"Secondly, we did an assessment on the volume of patients coming to the hospital at different times of the day/week/month. From that, we divided staff in different work shifts to meet the volume of patients.
"And finally, we formed a new unit at the hospital – the day-care unit – to handle less severe patients. These patients are monitored by doctors or nurses for about four or more hours. Then the doctor in charge decides if they can be sent home."
Haui said the National Paediatric Hospital now had 1,500 beds and all patients were classed as serious. Yet only about 400 to 500 of them really had any need to stay in a bed while awaiting treatment.
For the Viet Duc hospital, Dr Nguyen Tien Quyet said his hospital had solved the problem of putting two or three patients to a bed several years ago.
"In the period 2003-04, our hospital had only 430 beds. But in 2007-08, we had 800 beds. And now we have 1,100 beds. Late this month, when our hi-tech building is put into commission, we'll have another 350 beds. So all in all, we'll have some 1,500 beds by late February.
Followed on Dr Hai and Dr Tien's ideas, Deputy Health Minister Xuyen expressed her appreciation for hospital efforts to eradicate the problem.
"In past years, the Viet Duc and National Paediatric Hospital and other central hospitals have exerted great efforts to transfer hi-tech treatment to lower level hospitals. This enables many patients to be treated at provincial hospitals. This also reduces the economic burden for patients," Xuyen said.
She said to implement the Prime Minister Decision 92 to help major hospitals avoid overcrowding, the Ministry of Health had developed a proposal to identify 14 good hospitals in Ha Noi and HCM City and transfer their skills to 46 satellite hospitals.