The number of dengue patients is on the rise but there is not a safe and effective vaccine against denue fever, announced Director of Preventive Health Department under the Ministry of Health Nguyen Huy Nga in Ha Noi on June 25.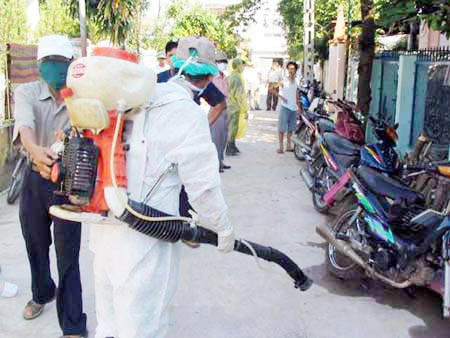 Spraying the Aedes Aegypti mosquitoes is one of effective measures against dengue fever
At present, the number of infected people throughout the country has reached 22,000. Mr. Nga stressed that at present, there is not a safe and effective vaccine against dengue fever, so the best preventive measures are to raise public awareness about environmental hygiene and to kill the Aedes Aegypti mosquitoes.

He added that the Ministry of Health has submitted a proposal to the Prime Minister for approval, under which fines will be imposed on individuals or households that fail to abide by dengue prevention programs.

At the same time, epidemic specialists warned that if urgent preventive measures are not taken in an effective way, dengue fever will spread extensively throughout the country between August and November.

So far, dengue in Viet Nam is mainly caused by type 2 viruses. Epidemic specialists, however, warned that the country has not only witnessed an increase in the number of infected people this year, but also the return of type D1, which poses a higher risk of fatality.

Epidemic experts also forecast that dengue fever will spread in the North due to unexpected changes of the weather.

In related news, pediatrician Tran Thi Thuy, deputy manager of the Infection Department of Children's Hospital 2, revealed that 40 children suffering from dengue fever were admitted to the department for treatment on June 25. Among them, 39 reside in Ho Chi Minh City.

Also according to Ms. Thuy, since the beginning of the month, the hospital has received from 20 to 25 dengue patients for treatment daily.

At the Children's Hospital 1,150 dengue patients were hospitalized on the same day. Pediatrician Nguyen Thanh Hung, deputy director of the hospital, reported that since last week, around 130 infected children have been admitted to the hospital for treatment each day, more than half of them from the Mekong Delta.

A recent report from the Ho Chi Minh City Preventive Health Center pointed out that so far this year, there have been 1,700 cases of dengue fever in the city, among which are patients from areas badly hit by the epidemic such as Districts 7, 9, Binh Thanh, Thu Duc and Nha Be.