At a meeting on food safety and hygiene organized by the Ministry of Agriculture and Rural Development on October 19, a report was presented that stated that recently bamboo shoot, dried beef and sea fish in the market were found containing toxic chemical residues.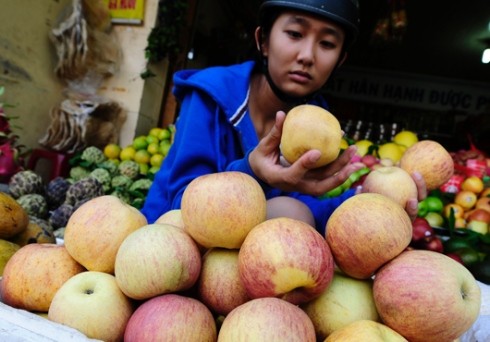 Consumers have begun to doubt the quality of fruits imported from China
As consumers doubted the quality of sea fish, fresh and dried bamboo shoot, dried squid and beef products in the market, the Ministry of Agriculture and Rural Development had asked related agencies to conduct checks in October.
The Department of Animal Health had taken 40 samples of dried beef from Hanoi and Ho Chi Minh City Markets at random as well as 50 other samples from enterprises in Hanoi, the northern provinces of Hoa Binh, Lang Son and Quang Ninh.
Other related agencies took 90 samples of sea fish from boats in harbors and wholesale and retail markets in the northern province of Hai Phong, the central city of Da Nang and HCMC.
After testing, 54 samples of fish were found to contain low contents of urea, which could not cause serious poisoning. However, histamine in sea fish was more worrisome as the substance can cause severe itching or even death. In 14 of 15 fish samples, the content of histamine exceeded permissible limits while 55 percent samples from retail markets showed excessive amounts.
Cao Duc Phat, Minister of Agriculture and Rural Development, ordered related agencies to focus on checking fresh vegetables, dried squid and bee honey.
Vietnam will also now tighten checks on Chinese fruits, said Nguyen Xuan Hong, head of the Department of Plant Protection under the Ministry of Agriculture and Rural Development.
After doubts in the quality of grapes and potatoes from China, Vietnam will tighten control on 182 vegetable varieties imported from China this October. Several samples of fruits from China were found containing harmful substances, announced the Plant Protection Department.
Health authorities had discovered pomegranate imported through border gate Kim Thanh in the northern province of Lao Cai to contain harmful pesticide residues far beyond permissible limits.