No country in the world is like Vietnam where two to three sick patients have to share one bed in a hospital and wait for 5 to 6 hours to see a doctor, said Health Minister Nguyen Thi Kim Tien.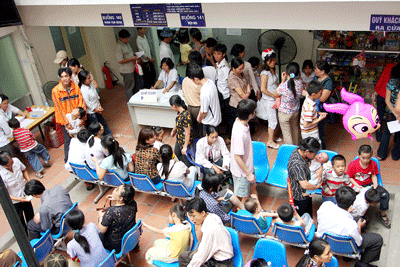 For illustration only
To tackle this dire situation, the Ministry of Health has launched a project to alleviate patient overloading in large hospitals and thereby improve the quality of medical services.
The project will be submitted to the government for consideration by June. The health departments of Hanoi, HCMC and seven leading hospitals, including Bach Mai, Viet Duc, Central Hue, Cho Ray, K, Central Obstetrics and Central Pediatrics, will be involved in the project.
All hospitals in HCMC and Hanoi will be required to formulate their own plans to reduce patient overloading and local authorities will oversee the implementation of these plans, said Health Minister Tien.
The country has 1,511 medical clinics with 300,000 beds. Under the project, the ministry targets 25-27 sickbeds at state-owned hospitals in Hanoi and Ho Chi Minh City per 10,000 people by 2015, compared to just 20-25 per 10,000 at present.
The minister has promised that the central, province and district hospitals will be able to reduce overloading by 15 per cent by 2020.
To obtain this target, the ministry will focus on preventative medical treatment and better healthcare, in an effort to cut down on people suffering from infectious diseases.
In addition, the ministry has proposed to the government to increase investment in the sector.
The ministry also called on investors of long standing hospital projects, to speed up construction progress, particularly works like the K Hospital that has been under construction for the last 10 years.