The Ministry of Health has drafted three alternative plans to vaccinate people in high-risk groups against swine flu, a health official said October 21.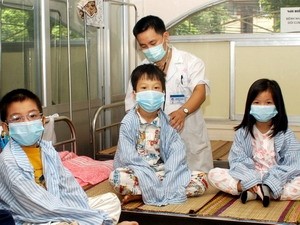 Children receiving treatment for swine flu at Saint Paul Hospital in Hanoi on October 16 ( Photo : VNA)
Dr. Nguyen Huy Nga, chief of the ministry's Preventive Medicine and Environment Department, told delegates at a meeting of the A/H1N1 flu prevention steering board in Hanoi that one of the plans would be approved by the Government.
The first will see the inoculation carried out in 10 densely populated provinces and cities that have suffered widespread outbreaks of the flu. Around 900,000 people will receive the shots.
The second envisages covering 1.5 million people in 20 provinces and cities.
The last, an ambitious one, will see high-risk groups in all 63 provinces and cities getting the vaccine.
But the ministry has not spelled out a time frame for these plans.
People with heart diseases, respiratory diseases like asthma, diabetes, and cancer, pregnant women and obese people are among the groups considered to be at high risk of serious complications from influenza.
The vaccine will also be administered to health workers and older people.
The steering board said it has bought vaccines and the World Health Organization has promised to provide over one million doses in 2010.
Meanwhile, Dr. Nguyen Ut, deputy head of the Danang Department of Health, said on the same day that a 20-month-old baby had died of swine flu in the central city October 20.
Nguyen Hoang Nhu An of Hai Chau District had suffered from high fever and cough since October 12.
She was admitted to a private clinic before being taken with breathing failure to the province general hospital on October 14. Doctors immediately gave her Tamiflu but to no avail and she died later.
Tests done by the National Institute of Hygiene and Epidemiology confirmed she had swine flu.
Her nine-year-old brother also had high fever, cough, and sore throat but he recovered following treatment at a private clinic.
The child's death took the total number of fatalities in Vietnam to 25.
As of October 20 the Ministry of Health had received confirmed reports of 10,267 cases.