The Ministry of Health has proposed to the government to offer more support to low income women living in remote and disadvantaged districts.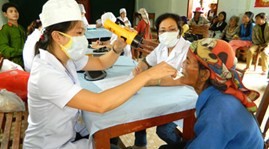 Vietnam will give support to ethnic minority poor women for healthcare
The Ministry suggested all healthcare treatment be given free for these women in state-run medical facilities.
Moreover, the Ministry wants to provide meal support to low income female patients in case they have to stay in hospitals for long time for treatment or giving birth.
In addition, the Ministry also suggested transport fee support from house to clinic and vice versa. According to the Ministry, disadvantaged women must even receive support when they come to hospital for prenatal check-up.
As per statistics, the country has around 1.2 million poor households that belong to ethnic minority groups. Supposing that each poor house has one woman then the country has 1.2 million poor women.
An average examination of a person is 1.64 times a year and the rate of inpatients is 6 percent. Accordingly, total spending for support of women is estimated around VND52 billion (US$ 2,444,031) per year.