Prime Minister Nguyen Xuan Phuc said that the Ministry of Health must publicize hospital rating on which patients can select the hospital of their choice.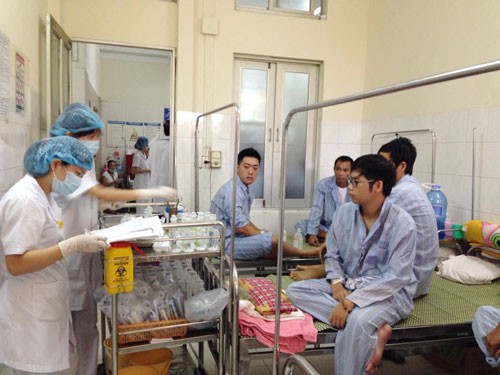 Two and three patients still stay in one bed in many hospitals (Photo: SGGP)
PM Phuc made the statement when attending the Ministry's conference to set out its tasks for 2017 in Hanoi on January 12.
Speaking at the conference, he lauded the sector's outcomes last year, helping improve the country's socioeconomic development. The PM also reminded Uncle Ho's teaching for health workers and duty in taking care of people's health.
On the occasion, the PM praised the sector's positive changes including improving the medical service's quality and let no outbreak of diseases take place. Moreover, the health sector has made progress in health financing mechanism, adopting measures to support the poor and disadvantaged people in remote districts to access to high-quality medical services. Especially, the sector has encouraged more people to buy health insurance. 
Mr. Phuc also pointed out the sector's shortcomings, including overloaded hospitals, two or three patients in a bed, complicated paperwork procedures causing trouble for patients, and medical accidents due to negligence and poor competence of medical workers.  Worse, it is nontransparent in drug bidding and weak management.
Accordingly, the PM ordered the sector to resolve its shortcomings. In the upcoming time, the sector must improve more to provide high-quality medical services; simplify paperwork procedures and raise examination and treatment quality.
Additionally, hospitals should accept test results to reduce trouble, money and time for patients. Furthermore, the Ministry should promote building district medical facilities and training medical staffs.
Health Minister Nguyen Thi Kim Tien said that in 2016, the Ministry implemented successfully programs and projects and completed two goals which the National Assembly and the government assigned comprising of the bed number of 25 beds among 10,000 people and the rate of insurance card holders reaching 81.7 percent.
The Health Minister said that the sector will continue measures to reduce cramped hospitals and improve quality as well as increase the bed number to insurance participants.